Level 1, 18 St Martins Lane, Auckland
P (09) 302 2193
B PO Box 47-822, Ponsonby, 1144
RECENT & ON-GOING PROJECTS

Ormiston Associates
New Zealand Land Treatment Collective

The NZLTC is a collective comprising scientists, wastewater consultants, Crown Research Institutes, Regional Councils, Farming Groups and interested parties run under the umbrella of SCION Research based in Rotorua. The NZLTC membership is an enthusiastic group with a strong interest in the land treatment of wastewater sourced from farming and industry and the management of environmental risks associated with wastewater. Sandy Ormiston is a member of the Technical Committee and current Chairman. If you are interested in on-site wastewater management I strongly recommend you join the LTC where there is knowledge sharing between a diverse group of specialists.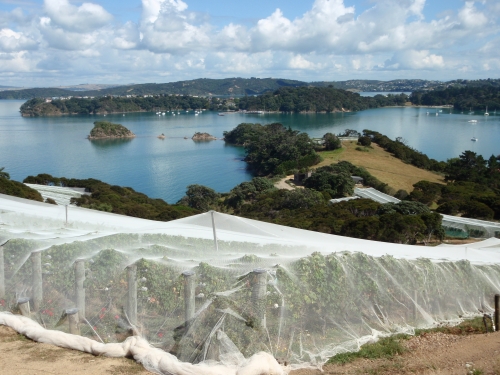 Winery Wastewater Management

Most of us enjoy a glass of wine, but few realize there can be a significant volume of wastewater produced for every bottle made. Ormiston Associates Ltd have a wide range of experience in winery wastewater treatment and land disposal, from small boutique wineries to large volume wineries. Our services include wastewater volume assessment, treatment system design, soils assessment for land disposal system sizing and design, and consenting.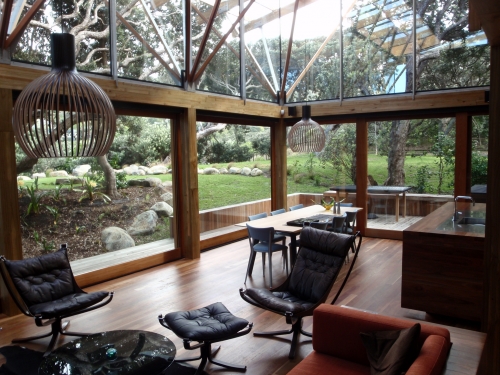 On-site Wasewater Solution for Award Winning Home

Ormiston Associates Ltd were engaged to resolve on-site wastewater management for a new dwelling to be constructed on stabilised sand dunes and a small site with a dense Pohutukawa tree cover requiring protection of the root structure. A solution was developed and approved following close scrutiny by the old Auckland Regional Council and Waitakere City Council. The home in its current configuration would not have been built without resolution of on-site wastewater issues.
Remote Site Wastewater Management

Puhoi Cottage is available to the public as holiday rental accommodation and is located in the Mahurangi Regional Park, which is administered by Auckland Council Northern Parks. The cottage is accessable by boat from Wenderholm Regional Park and has recently been renovated. As part of the renovations, Ormiston Associates Ltd has undertaken the investigation and design of a new on-site wastewater system appropriate for the difficult site constraints. The area is a historical site and required archaeological investigations prior to any excavations required for tanks and pipework. To complicate matters, the site does not have reticulated power supply. Ormiston Associates Ltd, in association with Innoflow Technologies Ltd, resolved the on-site wastewater management issues using a solar powered AdvanTex AX15 recirculating Textile Filter modified for remote locations, with land discharge via surface located pressure compensating dripper irrigation not requiring any excavation and protecting the archaeological site.
Domestic Geotechnical Assessments

Redevelopment of inner Auckland City suburbs and older dwellings often requires careful geotechnical consideration, and in particular where excavation under or adjacent to a brick villa is required. Careful attention to soil conditions and groundwater table fluctuations over the time that the excavations are unsupported is critical for success of the project.
Specialist Soil Hydraulics Testing

Specialist soil permeability testing equipment allows assessment of irrigation rates for wastewater discharge into or onto the ground, including the maximum rate per hour and daily irrigation, using the Disc Permeameter (CSIRO developed) testing equipment. Soils are tested in situ under saturated and unsaturated conditions at locations across the proposed irrigation areas and an accurate assessment of appropriate irrigation rates determined.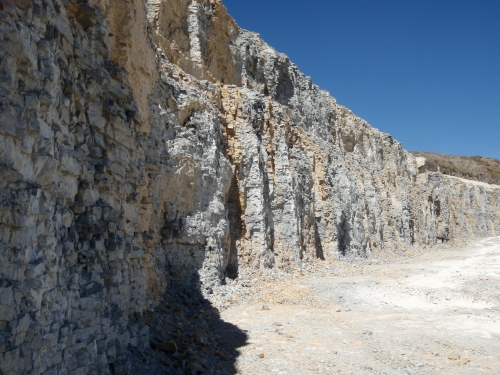 Mine Batter Slope Design

Ormiston Associates Ltd were contracted by McDonalds Lime (located near Te Kuiti) to review existing batter slope design in the Limestone Mine to maximise extraction at the pits ultimate limits prior to backfilling. The engineering geological investigation comprised a detailed discontinuity (joints/bedding) survey and the results analysed using stereographic projection methods, along with comparison check between analysis results and existing batter slope performance. The successful assessment allowed for improved extraction results and costs savings to the company.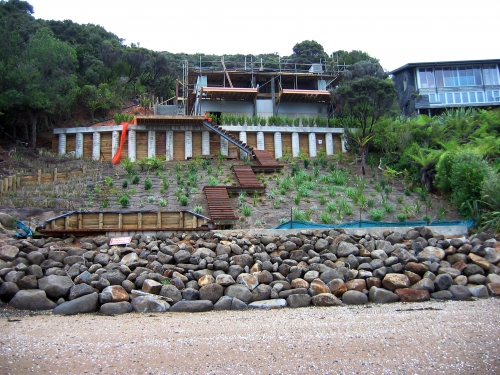 Redevelopment of a Landslide Scarp - Kaha St - 15/10/09

Construction of the main dwelling, made possible by the preparatory earthworks and retaining wall design from Ormiston Associates is now well under way.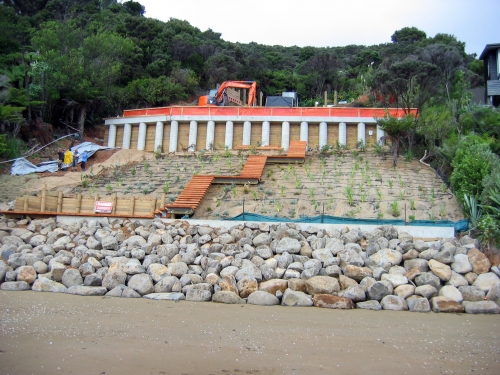 Kaha St - 24/04/2009

Main retaining wall completed together with sea anti-wave barrier. Beach access step way and planting of the bank area which is also the location of the dripper lines and dispersal system for the wastewater.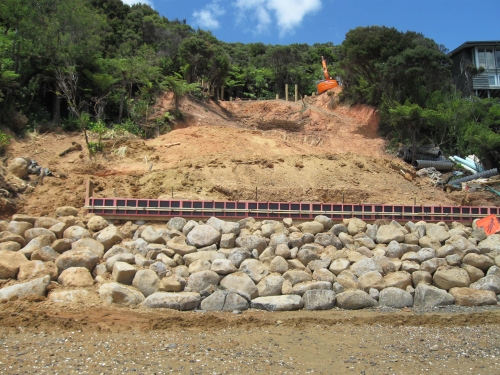 Kaha Street - 20/01/2009

Construction and slip control has begun.
Kaha St Russell - 3/04/07

This site was subject to a significant landslide in response to an extreme weather event resulting in loss of a significant portion of the property onto the beach.
Project - Hobson Tunnel

As part of a major sewer pipeline and pump station upgrade Ormiston Associates Ltd were engaged as a specialist contractor to provide ongoing engineering geological advice, including geological interpretation of the rock structure exposed in the excavation of a number of shafts up to 40m deep for the sewer tunnel.

Assessment included engineering geological mapping of discontinuities and stereographic analysis for identification of critical joint and bedding plane intersections and rock bolting requirements.
Quarry design and management

Ormiston Associates have expertise in quarry resource management, location and proving of resource reserves, quarry design layout and review. We consult to a range of companies operating throughout New Zealand providing specialist advice and assisting with consenting requirements.

We have been involved in location of greenfield quarry sites, proving the resource , consent application, pit design and ongoing operation for rock extraction. Clients range from major companies to small family operated quarries.
Temporary site works - Marine Parade, Herne Bay

To facilitate the construction of the basement level of a multi-storey, multi-million dollar residential dwelling on a cliff top property Ormiston Associates Ltd undertook a detailed site investigation including hand auger bore holes and machine drilled bore holes to provide the necessary recommendations regarding foundation design and temporary site works.

Considerations included the safety of workers during construction, the impact of the excavation on neighboring residential dwellings and the risk of differential settlement between the various elements of the dwelling, some of which needed to be supported on deep piled foundations embedded into the underlying sandstone due to the dwellings proximity to a 10m high coastal cliff subject to long term erosion.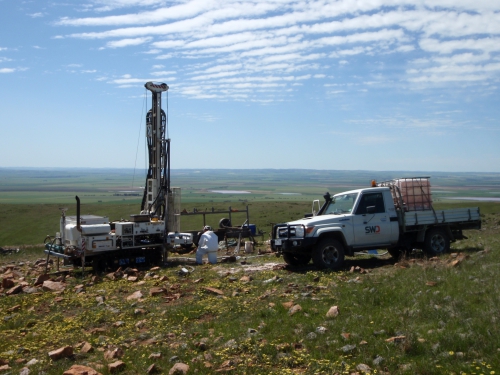 Site Investigations - Wind Farm

Ormiston Associates provided specialist engineering geological services to assist with a revolutionary tower foundation design at a wind farm in South Australia.

Investigations included supervision of geotechnical drilling, geotechnical logging of recovered rock cores and insitu rock mass strength testing.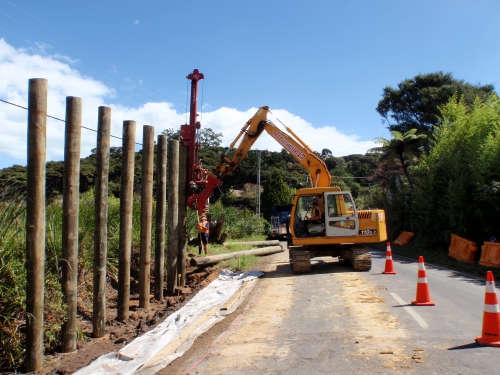 Retaining Walls - Waiheke Island

As part of a road rehabilitation project, Ormiston Associates Ltd were engaged to investigate and provide the design for a series of retaining walls located along the outside edges of a main road on Waiheke Island.

Difficult ground conditions at one location, comprising soft alluvium and a high groundwater level, prohibited the used of a conventional retaining wall comprising bored, concrete encased timber poles. Due to construction and budget constraints (including a tight construction time frame and the requirement to keep a lane open for traffic), it was decided the most cost effective design solution for speedy construction would be by using driven timber piles installed by a local pile driving contractor.